Home Staging Tips With Olivia Prince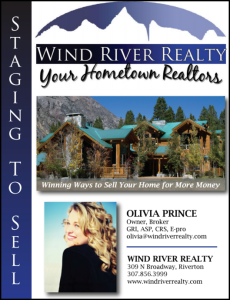 People make snap decisions in new situations. This is especially true during a showing of a home. In preparing your home for the market, we need to put this trait of human nature to work for us. Your home needs to make a good impression so that the snap judgments of potential buyers are favorable. During the showing, the buyer will make judgments about your home as they view it through the "lens" formed in that first 15 seconds. Remember, people judge what they can't see by what they can see. There is a lot that you can't see with a house, so we need to make sure that what can be seen is perfect. The path to home perfection begins with Olivia Prince's home staging tips.
If you are selling your home, let Olivia give you her tried-and-true secrets of home staging in order to get your home as perfect as possible. Well-staged homes sell faster and often for more money. Olivia puts her fourteen years of real estate experience and her degree in interior design to work in this free eBook full of home staging tips. In order to get great suggestions on staging both the interior and exterior of your home, just click the link below. Get Staging to Sell now!
Related Services
We understand that you might need more than home staging tips when preparing to sell your home. At Wind River Realty we value community relationships. That's why we always recommend using local resources for your home needs. Below, please find contact information for local businesses that can help you with all your home improvement needs. These businesses have been helping build the Riverton community for years. We trust them to provide you with excellent, honest service. However, Wind River Realty does not endorse any product, service or company. Please note this list is given as a convenience and is not a complete listing. We recommend you check the phone book for additional names. Some may not be certified or have liability insurance. We recommend you ask for references.
Appraisers
Randy Hutchison: 856-3376
Keith Kasselder: 332-6123
Mike McDonald: 840-5252
Dick Philip: 856-7994
Tippets Appraisal: 856-5156
Niki Tippets: 857-4226
Mindy Sealander: 349-4927
Builders
Bonneville Builders: 330-7344
David Construction: 857-2903
Dinwoody Construction: 856-6999
Florquist Construction: 332-9268
Gardcrafted PHD: 856-2811
Majors Equipment: 856-3218
Sehnert Systems: 856-4282
Wyoming Custom Construction: 463-4154
RICO Construction: 856-7010
Carpet Cleaners
Cleaning Solutions:856-6465
Mountain Air Cleaning: 856-1407
Smart Clean: 856-1189
Upright Const. & Restoration Service: 857-0303
Concrete
Rocky Mtn Pre-Mix: 856-3403
Riverton Ready Mix: 856-1209
Concrete Work
Ace Construction: 850-4006
Custom Cabinets
Gardcrafted: 856-2811
Wood Perfect: 856-4370
WY Windows & Cabinets: 332-2372
Drywall
Chris Amend: 857-3832
Giddings Construction: 856-2445
Mark Schatza: 856-5939
Yeates Construction: 856-9356
Electric
Amp Electric: 463-7345
Betts Electric: 856-2713
Electrical Dynamics: 856-4677
Hoffman Electric: 856-3408
Intermountain Electric: 856-7321
J&L Electric: 856-1584
Paradise Valley Electric: 856-9296
Wind River Electric: 856-6422
General Contractor
Dinwoody Construction: 856-6999
Gardcrafted PHD: 856-2811
Mid-Valley: 856-3421
Wyoming Custom Construction: 850-6347
RICO Construction: 856-7010
Handyman
Chris Amend: 857-3832
Pat Lookingbill: 851-1070
Ray Nolen: 857-0578
Mark Short: 851-6357
Pat Solan: 851-2836
Heating
Absaroka Heating: 856-2888
Advance Heating: 857-6909
Ideal Sheet Metal: 856-3300
Riverton Sheet Metal: 856-3431
Speed's Heating: 332-9133
Summit Sheet Metal: 856-2299
Valley Heating: 856-7883
Home Inspectors
Big Horn Home Inspector: 864-3385
Gustin Enterprises: 856-3699
Pat Lookingbill: 851-1070
CP Properties: 262-0725
John Snell: 851-5416
Insulation
C&D Products: 856-6562
Rocky Mtn. Insulation: 856-5423
Landscaping, Lawn Care, and Sprinkler Systems
Greenway Lawns: 856-3900
Precision: 856-6958
Service Sprinklers: 857-4295
Sweetwater Garden: 856-6663
Mold Removal
Environmental Engineering: 332-1528
Mountain Air Cleaning: 856-1407
Jason Gregory: 856-6465
Painting
Den Schofield: 463-2207
MBE Painting: 856-2714
Brian Meyer: 856-0187
Rocky Mtn Painting: 851-1818
Samuelson Painting: 856-6498
Pest Control
Terminix: 856-8793
Plumbing
Modern Plumbing: 856-1885
Service Plumbing: 856-2683
Valley Plumbing: 856-7883
Will's Plumbing: 856-0712
Remodel and Repair
Archer Construction: 856-5066
Bonneville Builders: 330-7344
Dinwoody Construction: 856-6999
Florquist Construction: 332-9268
McRae's Home Improvement: 332-1511
Select Building Services: 856-6716
Steve Powell Construction: 857-5507
Roofing
Rocky Mtn. Applicators: 856-0075
Select Building: 856-6716
Wyoming Roofing: 856-4244
Rocky Mtn. Insulation: 856-5423
Wyoming Custom Const.: 463-4154
Structural Engineers
Apex: 856-1647
Gore & Associates: 856-2444
Inberg-Miller: 856-8136
ERI Engineering: 857-4244
Water Testing
Precision Analysis: 856-0866
Big Horn Water: 856-9302
John Snell: 851-5416
Well Service
Bullington Well Service: 856-3584
Ward's Well Service: 856-9014
Western Well Service: 856-6425
Hornet Drilling: 857-2800