Are you looking for an ideal building site for your dream home? Lot 49 Lost Wells Butte Drive offers flat terrain for building your home, gorgeous views of the mountains, and just a quick drive into town for those instances when you forget something you need at the store! With nearly 10 acres, you have more than enough room to build a sizable barn or shop alongside your house and still have plenty of space leftover.
There is year-round access to the lot. The adjacent land is private, and there is frontage on a dirt road. There's abundant wildlife in the area, too, with frequent sightings of duck, pheasant, antelope, and deer. Protective covenants are in place.
Call Wind River Realty at 307-333-0799 or 307-856-3999 for more details about this outstanding homesite!
Related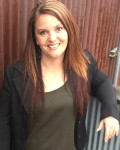 Brooke McWilliams
307.349.1770
I moved to Wyoming 16 years ago and have been in Lander for nearly a decade. Though I'm not a Wyoming native, I feel like one! I love being outdoors – hunting, fishing, camping, and enjoying the amazing recreational opportunities we have in our area. My family operates a farm and ranch where we grow hay and raise cattle, though my background is in banking so I have an intimate knowledge of financing. However, the best asset I bring to the Wind River Realty team is a commitment to customer service. My number one reason for becoming a Realtor is to serve the needs of buyers and sellers in Fremont County!