This meticulously maintained home at 1070 N 6th St in Lander sits on a beautifully situated lot in the heart of town. You'll love the front porch as well as the gorgeous back deck, which is perfect for your morning coffee, afternoon lemonade, or even eating dinner!
This home has three bedrooms (one non-conforming) and one bath, with an open and airy main living space that includes the living room with gas fireplace, a large entryway and dining area, and a u-shaped kitchen that maximizes space. This home also features new plumbing, a new furnace, a new water heater, and an updated bath.
You will also appreciate the oversized 18×24 one-car garage to park your car with plenty of room left over to store extra items. There is lots of off-street parking available too!
Call Wind River Realty today at 307-333-0799 or 307-856-3999 for more details!
Utility Information:
City: H: $47.83 L: $45.15 A: $46.49
Electric: H: $60.00 L: $30.00 A: $45.00
Related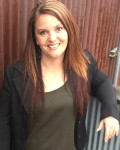 Brooke McWilliams
307.349.1770
I moved to Wyoming 16 years ago and have been in Lander for nearly a decade. Though I'm not a Wyoming native, I feel like one! I love being outdoors – hunting, fishing, camping, and enjoying the amazing recreational opportunities we have in our area. My family operates a farm and ranch where we grow hay and raise cattle, though my background is in banking so I have an intimate knowledge of financing. However, the best asset I bring to the Wind River Realty team is a commitment to customer service. My number one reason for becoming a Realtor is to serve the needs of buyers and sellers in Fremont County!