Live in One, Rent the Other! All for Just $135,000!
This unique property at 516 N 7th E and 520 N 7th E offers you tons of flexibility. There are two houses – a 2 bed, 1 bath and a 2 bed, 3/4 bath – right next to each other. That means you can live in one home and use the other as rental income to help pay your mortgage!
Home #1 is 756 sq. ft. with 2 bedrooms and one full bath, and has had lots of updates, including an all-new bathroom, a new kitchen, new flooring throughout, and a one-car garage. Home #2 is 1,008 sq. ft. with 2 bedrooms and a 3/4 bath. This home has also had some updates and is currently being rented. It will be ready for new tenants in August. Both homes have a new roof.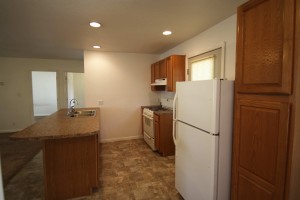 These homes are ideally located right in the middle of Riverton, in walking distance to shopping and restaurants. That means there's no long commute for you after work and the tenants you have next door will be near all the amenities they need.
Visit the listing page for more details on this property or give us a call at 307-856-3999 to schedule your private showing!
Key Features:
Bedrooms: 4
Baths: 1.75
Square Ft: 1,764
Lot Size: .16 Acres
Year Built: 1941