Hear What Olivia Has to Say About Wind River Realty's Exclusive Home Certification Program
Late last year, Wind River Realty unveiled the Wyoming WISE Certified HomesTM Program. The program has many important features that make buying or selling a home a much better process:
A premium, one-year home warranty that benefits buyers and sellers.
A long-form 97-point home inspection.
Faster closings and less potential for TRID delays.
A title examination and title insurance commitment upfront.
An estimate from a reputable general contractor on the costs of any repairs or upgrades noted in the inspection report.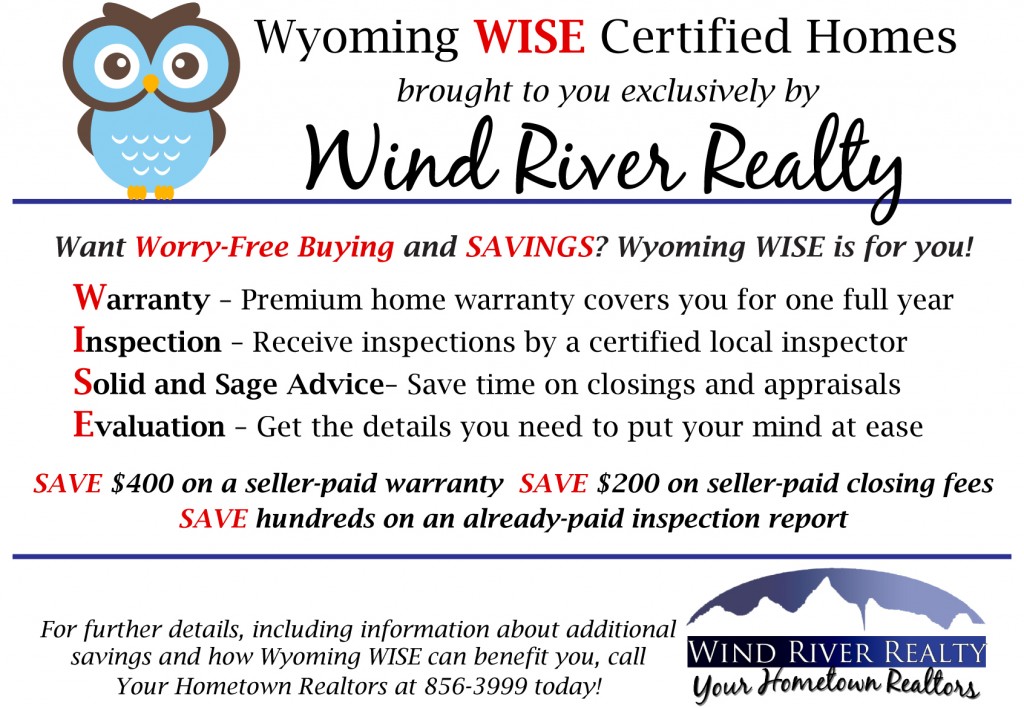 Wyoming WISE Certified HomesTM Buyer Benefits
If you buy Wyoming WISE Certified HomeTM, you get the extra comfort of knowing that your new home has been properly inspected. There are no surprises after closing! You know any and all repairs that need to be addressed before ever signing your name on the mortgage documents.
There are significant time and money savings for buyers as well. Closings can be faster, and TRID delays are at a minimum since inspections are already completed. From a financial standpoint, you can save hundreds of dollars on a home warranty, inspection, and even closing fees. If your home is purchased through a Wind River Realty agent, you might also save hundreds of dollars more on appraisal fees.
Wyoming WISE Certified HomesTM Seller Benefits
If you are in the market to sell your home, there are benefits for you too! Wyoming WISE gives your home a special designation that allows us to distinguish it from all the other homes on the market. A WISE home can be marketed as one that is certified, with completed inspections and a home warranty included. These exclusive features draw more attention to your home, gets more buyers interested, and helps you get your home sold in a shorter time for the best possible price.
As the seller, you benefit from the home warranty as well. If you have to move before your home is sold, you don't have to worry about leaky pipes, air conditioning condensers that go on the fritz, or a leaky dishwasher. If anything were to go wrong with your home while it is for sale, your warranty will cover it!
There are also flexible payment options for this program, which is another great benefit for sellers! Just give us a call for more details!
Check Out Our Current Wyoming WISE Certified HomesTM
We've got three incredible Wyoming WISE properties that come with all the benefits listed above. Be sure to check them out and see the true quality that Wyoming WISE has to offer!
Conclusion
This exciting new program has many other benefits! In fact, Olivia recently went on the Morning Buzz to discuss Wyoming WISE and all the advantages it provides for buyers and sellers alike. Click the link below to hear Olivia's conversation about Wyoming WISE:
If you're in the market to buy a new home or sell the one you already own, we'd love to talk to you about how the Wyoming WISE Certified HomesTM Program can benefit you! Stop by our office at 309 N Broadway in Riverton, call us at 856-3999, or follow @wyomingwise on Twitter for updates.