Exclusive Home Certification Program Available Only at Wind River Realty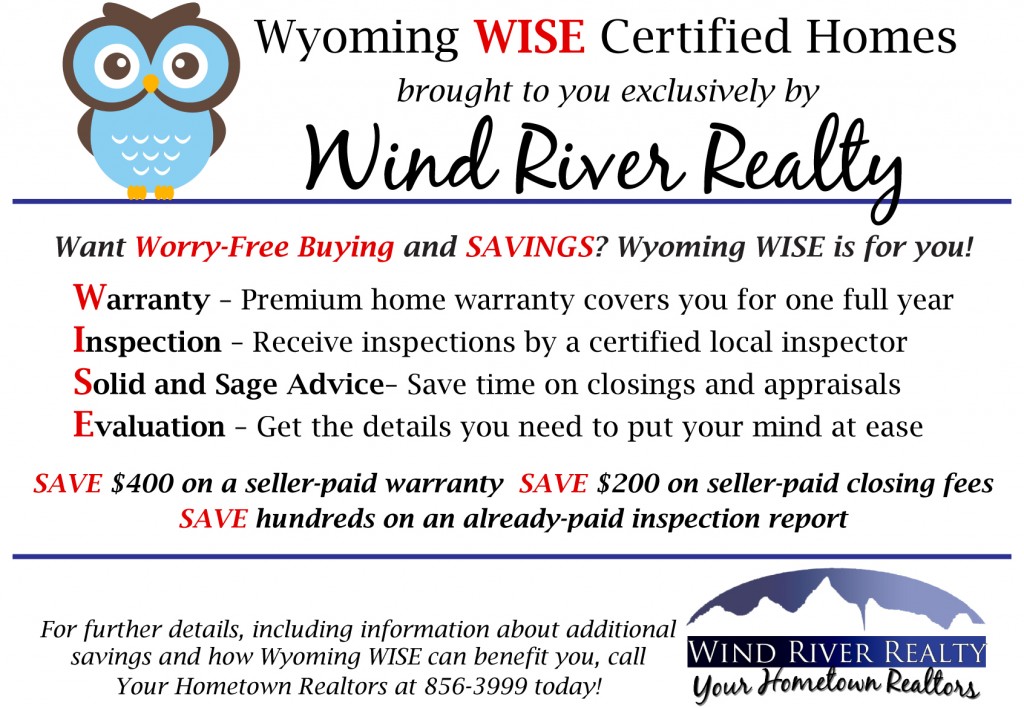 Wind River Realty is excited to announce a new home certification program that will provide buyers and sellers with many excellent benefits.
"The purpose of the program is really to provide our customers with an added layer of peace of mind," explained Olivia Prince, Owner/Broker of Wind River Realty. "It also helps to streamline the process a little bit, maybe help buyers and sellers relieve some of the stress associated with real estate transactions, while also saving both buyers and sellers time and money in the process."
Major Features of the Program
A premium, one-year home warranty that covers everything from the furnace to the dishwasher.
A full long-form 97 point home inspection.
Faster closings and less potential for TRID delays.
A title examination and title insurance commitment upfront.
An estimate from a reputable general contractor on the costs of any repairs or upgrades noted in the inspection report.
What Does the Wyoming WISE Certified HomesTM Program Do for Buyers?
Buying a Wyoming WISE Certified HomeTM provides buyers with several layers of security knowing that the home they want to purchase has been properly inspected. There will be no surprises after closing – buyers will know what repairs, if any, need to be addressed before signing their name on the dotted line.
The Wyoming WISE Certified HomesTM Program also helps buyers save time and money. Closings will be faster as a result of having inspections already completed. And TRID delays will be minimized because inspections will already be done. The financial savings are numerous as well, with hundreds of dollars in savings on the home warranty, inspection, and closing fees. There are potentially hundreds more in savings on appraisal fees if the home is purchased through a Wind River Realty Agent.
What Does the Wyoming WISE Certified HomesTM Program Do for Sellers?
Sellers also gain many advantages by choosing to participate in the Wyoming WISE Certified HomesTM program. Wyoming WISE is a special designation that sets a home apart from others on the market. The WISE designation means your home can be marketed as a certified home, with inspections complete and a warranty to offer buyers. These features draw in more buyer activity and helps sellers get their home sold in a shorter time for the best price.
The home warranty that comes with the WISE designation isn't just a benefit for buyers. If you move before your property is sold, you can rest easy knowing that if anything happens to your home while it's on the market, your warranty will cover it. Whether the oven stops working or the air conditioning goes out, you won't have to worry about expensive repairs!
The Wyoming WISE Certified HomesTM program also offers sellers flexible payment options. We offer a discounted fee upfront, or you can incorporate the cost of the program into the commission fee. It's more expensive to pay for the program as part of the commission, but it leaves you more money in the bank upfront and it allows Wind River Realty to assume the risk of the cost of the program.
Conclusion
We are so excited to offer this new program to our friends in the Fremont County community! For sellers, it will help their home stand out in a saturated marketplace, resulting in more buyer activity. For buyers, Wyoming WISE offers an incredible amount of peace of mind, knowing that the home has been properly inspected, appraised, and priced right according to the market.
If you are thinking about selling your home or are in the market to buy, we encourage you to call us at 856-3999 or stop by our office at 309 North Broadway to inquire about the details of the program and find out just what the Wyoming WISE Certified HomesTM Program can do to benefit you! For information on the go, follow @wyomingwise on Twitter!