The kitchen is the heart of the home, the place where you spend the most time with your family. It is also the most expensive room in the house to remodel. In 2014, the average cost to redo a kitchen was $18,500! But there are a number of quick and easy updates you can make to your kitchen to spice it up without breaking the bank.
Update Hardware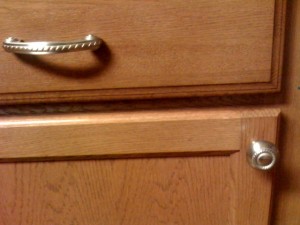 If you don't have the budget to replace old, tired kitchen cabinets, give them an update with some new hardware. If possible, find new knobs and pulls that fit the existing holes so you don't have to fill in old holes or drill new ones. You should be able to replace all your cabinet hardware for under $100. TIP: There are many great places online, like overstock.com, to buy discounted hardware.
Add Color
If you've got some ugly features in your house, draw people's eye away from them by some strategically placed color. Add some nice window treatments to the window or cheery placemats at the breakfast bar. A few small appliances in a bold color such as red will do the trick as well. Some spots of color here and there can make a huge impact for less than $200.
If you want to add a lot of drama to the space, think about painting a feature wall in the kitchen. Select the wall that is visible from other areas of the home, or the one that people see immediately upon entering the kitchen. New paint can make a huge impact and give the entire kitchen an updated feel, all for around $100.
Add an Island
If your kitchen is large enough, consider adding an island to provide more prep space and storage. It doesn't have to be anything fancy or built-in – a DIY island is easy to come by online. There are all kinds of styles, with different drawers, cabinets, and countertop combinations. Many can be found online for under $250 at places like amazon.com.
Update the Lighting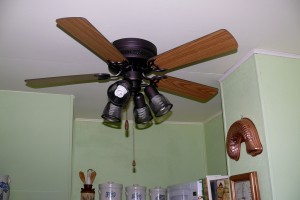 If you've got old fixtures in the kitchen, replacing them with something fresh and new will give the room an immediate facelift. Something with an interesting design or a bold color will heighten the impact even more. Many local businesses, like Ace Hardware, carry a selection of light fixtures. Online stores like Home Depot and Lowe's carry them as well. You can easily find a high-impact fixture for less than $250.
Whether you've just moved into your home or you have it on the market to sell, making these simple updates to the kitchen can make all the difference in how it feels to you and to potential buyers. If you have questions about other updates to make to your home to maximize its look and feel, give us a call at 856-3999. We have all kinds of great home improvement ideas!
Image Credits:
Close Up of Hardware by Twanda Baker via Flickr Creative Commons
Kitchen Ceiling Fan by Larry & Teddy Page via Flickr Creative Commons