Autumn is a great time of year to tackle some of the home improvement projects you intended to get done over the summer, but just didn't have the time to finish! Now that the weather is cooling off, getting some of your outdoor to-do list taken care of is a great idea. Check out these quick and easy outdoor home improvement projects for sprucing up your home's curb appeal and increasing the value of your home.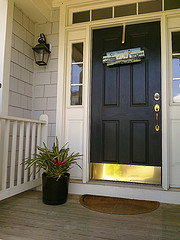 Get a New Front Door
First impressions are everything, and a new energy-efficient door will not only give visitors a nice welcome, it will also help reduce energy costs once our cold Wyoming winter arrives. Oftentimes local retailers will have doors and windows on sale this time of year as they try to move old inventory out to make room for next year's products. If a new door isn't within your budget, give the existing door a fresh coat of paint. Add new house numbers, a new light fixture, and a new welcome mat to complete the makeover of your entryway.
Add Life to Your Tired Yard
With local nurseries wrapping up operations for the year, it's easy to find great deals on trees, shrubs, and perennials. You can often get at least twice as many plants for the same amount of money you'd spend in the spring. Fall is also a great time to get new plants in the ground because they have started the process of dormancy to prepare for the cold that's just around the corner. The shock of transplanting that can sometimes kill otherwise healthy plants earlier in the year isn't as big of an issue this time of year. It's also a lot cooler outside, so take advantage of the great September weather and get your hands dirty!
Tackle the Trim
It might not seem like a big deal, but repainting the trim on your house can make a huge impact in the overall impression your home makes. Color fades over time, so the bright white trim that once made your home look crisp and clean may now be muted, stained, or peeling. Unless you live in an absolutely huge house, you should be able to repaint the trim around windows, doors, and along the roofline for under $100. For added pop, consider a bold color to make your house stand out from the crowd. Just be sure that whatever color you choose matches the existing color scheme. Purple trim, although bold, may not be a good choice if you have a yellow house!
General Clean Up
Now is the time to get your property in tip-top shape. Rent a chipper to get rid of the pile of branches that have been lying in the backyard all summer. Take your broken down lawnmower out of the shed and to the dump. Tend to the broken slats in your fence. Shore up the retaining wall that is starting to bow and sag. There are always a thousand things you can do to get your home's exterior looking it's best! By focusing on the outside of your home now, you'll have the cold winter months to get your indoor projects taken care of.
Whether you're selling a home now or in the next few months and want to get it looking good, or just want some general advice regarding how to increase your home's value over time, your Hometown Realtors are always happy to help! For more great home improvement tips, come by our office at 309 N. Broadway. We would love to help you make your house the star of the neighborhood!