Wind River Realty – Always Improving!
At Wind River Realty, we are always striving to improve ourselves in order to provide our valuable customers with the best possible experience when buying or selling a home. Olivia Prince, Owner/Broker of Wind River Realty, recently sat down with Dr. Sabrina Schleicher for an exclusive interview in Rural Business Success. In the interview, Olivia talks about how she's used the training she's received at Tap the Potential to devise a business plan that provides stress-free services for her clients. Using the strategies of Mike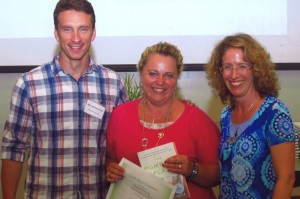 Michalowitz, author of The Pumpkin Plan, Olivia has implemented a program in which Wind River Realty uses client interview data to drive future services.
For example, one of the questions Wind River Realty commonly asks former clients is, "What causes you the most stress in your job or industry?" Taking responses from that question then drives how our agents interact with our clients. To illustrate this point, many former clients list 'poor communication' as a major frustration in their workplace. As a result, Wind River Realty focuses on being communicative in a timely manner in order to remove that stressor from our clients' buying and selling processes. Other services that Wind River Realty provides that were borne out of client interviews are our free packing materials and moving trailer. Many former clients mention that it would be nice if their Realtor would just move their stuff for them. While we can't necessarily do that, we can certainly provide the materials that would make the process easier!
Olivia goes into much more depth about Wind River Realty's business strategies in her interview. But we don't want to give away too many details of her discussion with Dr. Schleicher! To read the full text of Olivia's interview in Rural Business Success, head over to Tap the Potential.
Getting to Know Wind River Realty
The Wind River Team is also busy working with County10 to help the community get to know each of our agents a little bit better. Each member of the team recently completed an interview for County10, complete with a video Q&A. These interviews will be published over the next few months as a way for the great people of Fremont County to gain some insight into who we are as individuals and who we are as a company. Olivia's interview is already published and can be accessed on County10. We'll keep you posted on publication dates for our other agents.
– The Wind River Realty Team