One of the greatest assets we have living in this area is the beauty of Fremont County. The mountain and stream views, the mild temperatures in the spring and the fall, and the abundance of sunshine we have year-round make outdoor living spaces an attractive option for many homeowners. But developing outdoor living spaces is much more than just throwing together some patio furniture for the backyard! Think about these five easy tips for creating an outdoor oasis when putting together your home's outdoor space.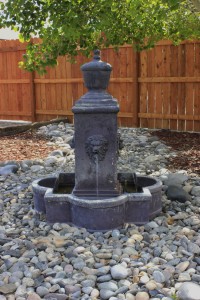 Consider the View
The whole point of having an outdoor living space is to enjoy the setting around you. This is important whether you have an unobstructed view of the Wind River Mountains or have an in-town lot with mature trees. If you have a great view of the mountains, use that as your backdrop for an eating space or sitting area. If you don't have much of a view, create one! Trees, shrubs, and flowers can easily turn a drab backyard into a beautiful family gathering place. A dry riverbed, raised planters, and an outdoor fireplace are further options for creating an inviting space that your family can enjoy.
Add Water
Water features are a great way to add drama to your outdoor space. The water will attract birds, and the bubbling sound it makes is soothing and can help mask unwanted noise from traffic or your neighbors! The water also reflects the sunlight to add a little more interest to your outdoor space. But with our harsh winters, adding a pond or a waterfall can mean a lot of time involved with maintenance. However, small water features made out of pots are a perfect option, as they can easily be drained and moved inside for the winter.
Utilize Potted Plants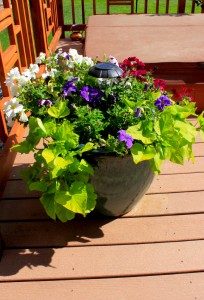 Potted plants are an easy way to add color, texture, and pleasing smells to your outdoor area. They can also serve to soften hard spaces, such as a concrete patio or wood deck. Potted plants give you the freedom to rearrange them as you please, which maintains the visual interest of your outdoor space. Better still, you can begin growing your plants indoors when our Wyoming springtime looks and feels more like winter! Once the weather warms up, you have a ready-made garden that is in full bloom. A great flower to consider for your outdoor space is the petunia. These plants are very hardy and drought resistant, love full sun, and smell great! They also bloom all summer long and come in a wide variety of colors.
Connect the Outdoors with the Indoors
When creating an outdoor living space, connect the theme with what you've already got indoors. If you're creating an outdoor eating area, find chair cushions and placemats that compliment what you have in your dining room. Finding furniture that is similar to what you have indoors may be a challenge, but finding something complimentary will help create the feeling that your outdoor space is an extension of your indoor space. Also think about how your new outdoor space fits in with your existing landscaping. For example, if you're building a patio, use similar materials you've used for walkways or retaining walls to further develop a sense of continuity.
Make Updates Easy and Affordable
The bright yellow umbrella you bought last year may not look so bright and yellow this year! Your outdoor furniture is going to suffer from wear and tear, especially in our area where temperatures vary wildly and the wind often blows. And you may just tire of your existing look after a couple of seasons. Making updates to your outdoor space doesn't have to be difficult or expensive. Swapping out cushions for chairs and benches, or purchasing a new deck umbrella can breathe new life into your patio set. A new stain color can make an old wooden table look new again, or spray paint can completely change the look of your metal patio furniture.
Creating an outdoor oasis is easy to do and brings you more than just fun family enjoyment in the summertime. Creating a quality deck or patio area can add real value to your home! It can also make your home feel larger, especially if your outdoor spaces coordinate and flow well with your indoor spaces. For more easy tips for updating the inside and outside of your home, call your Hometown Realtors at 856-3999 or stop by our office at 309 N. Broadway in Riverton. We are always eager to help!