At Wind River Realty we always celebrate the joys of owning a home. However, June is a special time for Realtors because it's National Homeownership Month! To celebrate, we've put together our top five reasons to own a home:
Pets
It can be difficult to find a rental that allows pets, especially if you have a big dog. Owning your own home means that you decide whether your kids get to have a pet – not your landlord!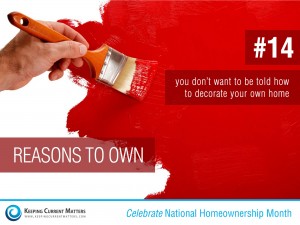 Personal Taste
Have the all-white or beige walls of your rental got you down? Will your landlord not let you hang your 60-inch TV on the wall? Purchasing your own home means that you can do whatever you want! Change light fixtures or flooring, put in a patio in the backyard, or blow out a few walls – it's your choice!
Room to Roam
If you've lived in an apartment complex, you know the feeling of not having any personal space. Not only can you often hear your neighbors walking around upstairs, you don't have much outdoor space, if any at all. Buying your own home gives you the space to stretch out. Buy a single-family home in town and enjoy your private backyard, or purchase a home in the country to really have room to roam!
Equity
Nothing is as frustrating as writing a rent check each and every month, knowing that you're helping someone else build his or her wealth instead of padding your own pocketbook! Although buying a home is a major expense, the equity you build over the years is yours and yours alone.
The American Dream
Renting an apartment is a great first step that most of us undertake in our journey towards homeownership. But it just doesn't provide the same feeling of independence and sense of accomplishment that come with owning a home. Having something to call your own – your own little slice of the American Dream – is what it's all about!
If you're thinking about purchasing your first home, or want to return to homeownership after renting for a while, stop by Wind River Realty at 309 N. Broadway or give your Hometown Realtors a call at 856-3999. Our friendly and knowledgeable staff can walk you through the home buying process and help you find the home of your dreams!