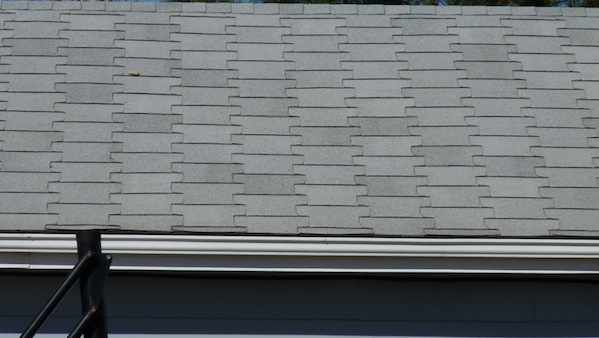 Living in beautiful Fremont County has many advantages – the great mountain views, fun outdoor activities, the wide-open spaces – but we also have to deal with the wind, which as we all know can howl and howl! Because of the strong winds we have here, many homes have a T-lock shingle roof. This roofing system became a popular addition for new homes built between the 1930s and the 1980s, not just in Wyoming, but also in other windy areas in Colorado and New Mexico. Originally, these shingles were high in asphalt content, so when the wind came up, they didn't blow off due to their weight. However, as time went by, companies who made T-lock shingles used less and less asphalt and the quality of the product suffered. As a result, the wind could easily lift the more fragile shingles off the roof.
What do I do if my T-lock roof is damaged?
T-lock shingles are no longer manufactured, so if you own a home with these kind of shingles, or have found that the home of your dreams has these shingles, BE AWARE! Firstly, repairing these type of shingles is impossible, since they are no longer made. If damage occurs, the entire roof will have to be replaced, which can easily cost upwards of $5,000.00. Secondly, many insurance companies will not even insure a home with these kinds of shingles. Even if the roof is still in good shape, or if there is a lifetime guarantee on the roof from the manufacturer, many companies still will not insure it. In fact, many insurance underwriters have instructed their inspectors to report the presence of T-lock shingles as a "major insurance hazard."
Tips to protect your investment and your pocketbook from the T-lock hazard

If you're looking for a new home in Fremont County, always ask what kind of roof the home has. Your Hometown Realtors will have that information to share with you. We are here to protect your interests and your bottom line!
Be sure to inform your insurance agent about the presence of a T-lock roof on the house you'd like to buy. Remember, many insurance companies (including some in Fremont County) will not insure this particular kind of roof, so it makes it that much more important to have the contract stipulate a roof replacement. You can't go without homeowner's insurance, so fixing the problem from the get-go is a must.
If you make an offer on a home with a T-lock roof, make a full roof replacement a contingency of the contract. If the seller doesn't have the money to replace the roof, lower your offer amount accordingly so you can have the roof replaced. If you are selling a home with a T-lock roof, your pool of buyers will be greatly reduced if you don't replace the roof prior to listing. To get the greatest interest in your home, get a new roof if at all possible. If the seller doesn't have the money to replace the roof, you may be able to get a credit at closing to replace it.
Regardless of the type of roof, ALWAYS have it inspected by a licensed professional. There are many great businesses in Fremont County and we are always happy to refer you to someone who is qualified to inspect your home.
Realtors don't just help you buy and sell homes. We help educate you and work for your best interests. As your Hometown Realtors, we can help you avoid costly mistakes and get you the house of your dreams. We are always available if you have any questions, so don't hesitate to call!
– Olivia Prince
Search Current Listings in Fremont County
Like us on Facebook